What materials you should look for when buying a wedding band

Aleksander Chuly
Apr 05
7 min read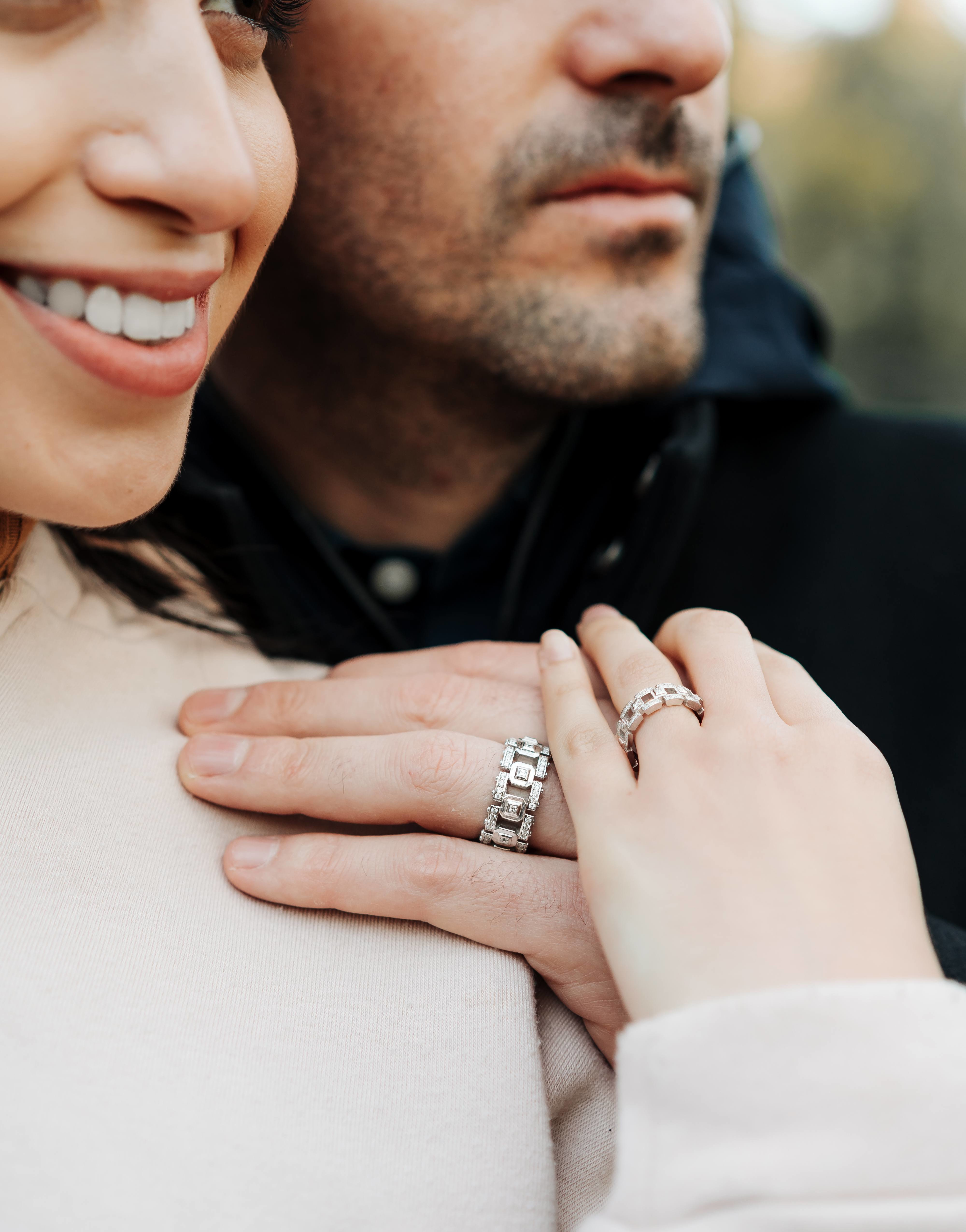 What to look for when buying a wedding band.
So you're taking the plunge and tying the knot - congratulations! With proposal nerves fading and a ceremony on the horizon, it's time to choose a ring.

This isn't just any old ring. This is the ring. The one that's going to last a lifetime. It needs to tick all the boxes. It needs to show your personality and remind you of who you are. No pressure.
Fit the ring to fit your lifestyle.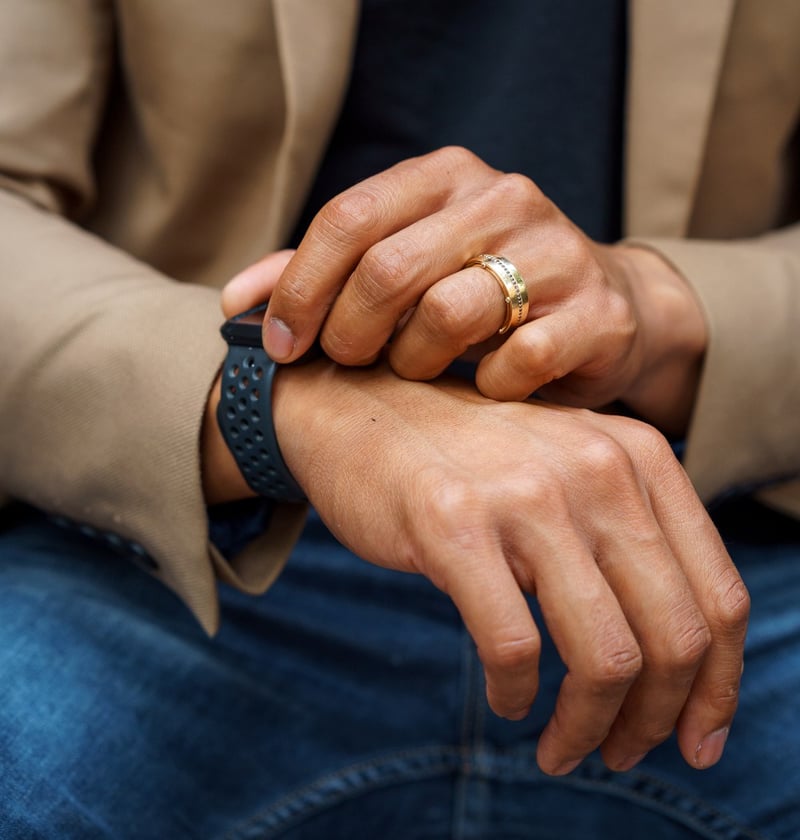 Size matters, but when we talk about fitting a ring, we don't just mean size. We're talking about it fitting into your lifestyle.

Does the ring need to fit into boardrooms and Business Class, or does it need to withstand the wear and tear of a construction site?

Are you looking for bling? Our Ropes Ring has 106 white diamonds, just saying. Not a diamonds guy? Sure? Ever heard of a black diamond?

Asking yourself these questions will help decide which ring - and which bling - suits you.
Heavy metal with a difference.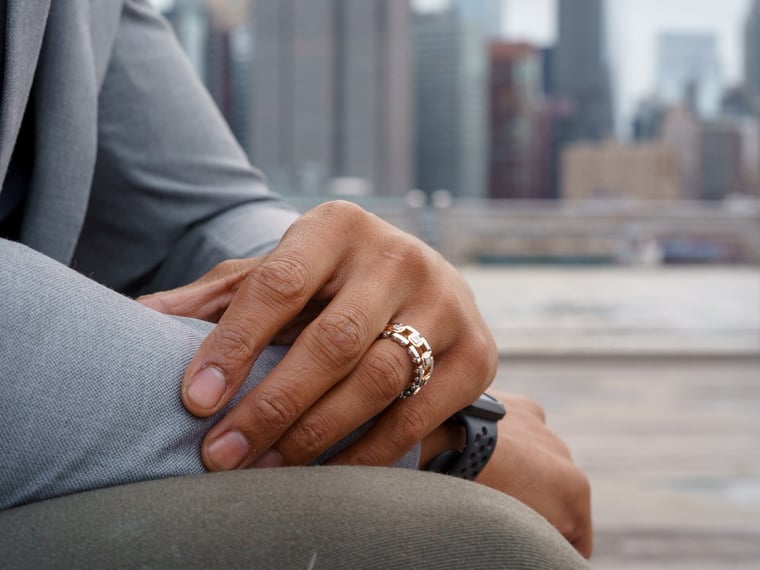 Here at Rockford Collection, we pride ourselves on the quality of the metals we use. As a New York City-based business, we make a point of sourcing our gold from American gold mines. The gold rush period was a source of hope and prosperity in our nation, and we're proud of it.

The differences in gold are easy to understand once you get the nitty-gritty. Read on for our breakdown so you can make an informed decision on what's right for you.
Everything you need to know about karats/carats and what's right for you.
When you're talking gold, you're going to hear about karats. Simply put, this is a measurement of purity, and the numbers you'll hear most commonly are 24K, 22K, 18K, 14K and 10K. The higher the karat, the purer the gold.

24 karat is pure gold. This might sound like it's the best of the best, but keep in mind: what's right for Bruno Mars isn't right for everyone. It's actually rarely used for jewelry, because pure gold is so soft it'll pick up every dent and scratch. It is so soft that you can squeeze a 24 carat ring out of shape relatively easily.

Lower levels of purity are attained by mixing gold with other metals to increase its durability and suitability for everyday life. Think back to fitting your ring to your lifestyle. If you're a hands-on kinda guy, you're going to need a tougher, harder metal.

The standard for men's fine jewelry, whether it's from Rockford Collection, Tiffany, or Cartier, is 18K. Made of 75 percent pure gold mixed with other metals, 18K is the most practical choice. It has a high level of purity, has just the right weight to feel substantial, and is still durable enough for everyday wear.

If you're more physically active or have a hands-on job, your ring is going to be exposed to more rough and tumble. Opting for a lower purity, such as the mass marketed 14K, means it'll be even tougher.

There's a trick to finding out the purity of a ring. Look inside for the engraved number. An 18K gold ring will have a hallmark of 750, meaning 75 percent purity. 14K will have 585, for 58.5 percent purity. You get it. Most companies will list clearly the karat/carat the gold is.
Everything you need to know about colours.
You've seen the gleaming gold bars in cartoons: this is yellow gold. There are two other colours which is a bonus, because yellow gold doesn't suit all skin tones, and if you're choosing a ring at Rockford, you'll find a couple more options.

Simply put, there's yellow gold, white gold, rose gold. Then there's platinum and Everblak. Stay with us here.

Your wedding band is your choice, so if you have a particular leaning towards a specific colour, go for it. If you're not sure, the general guidance is that people with cool skin tones are best suited to light or white metals: we're talking white gold and platinum. Dark skin tones are complemented by yellow gold and rose gold. If you have a warmer skin tone that's somewhere in the middle, congratulations: you look good in everything.
But what's platinum?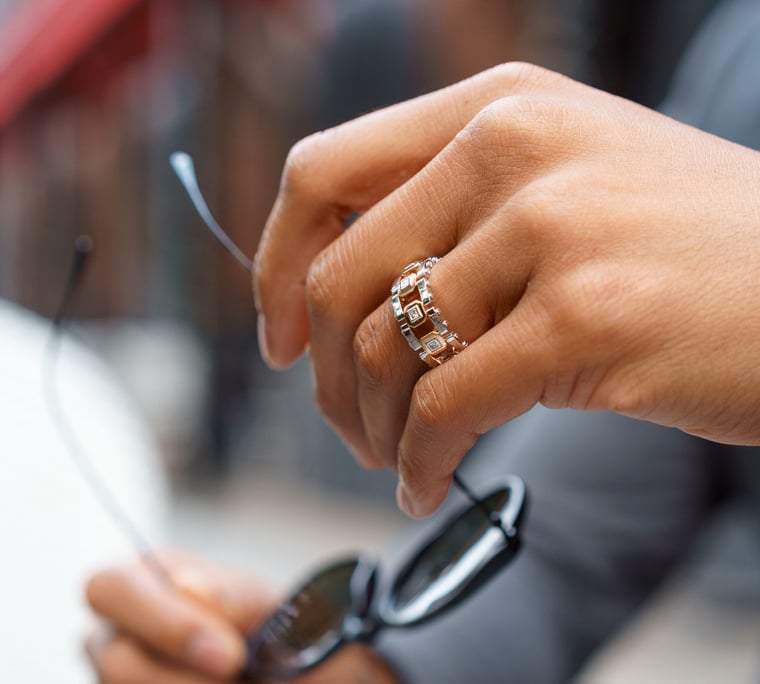 On face value, platinum looks a whole lot like white gold. It's a naturally occurring metal that's more rare than white gold, and it's heavier and harder. This means it can be used to make jewellery with a purity of up to 95 percent, which also makes it more expensive and exclusive than white gold. As for its little engraved stamp, that'll be 950 or 999. See? You get it.
And Everblak?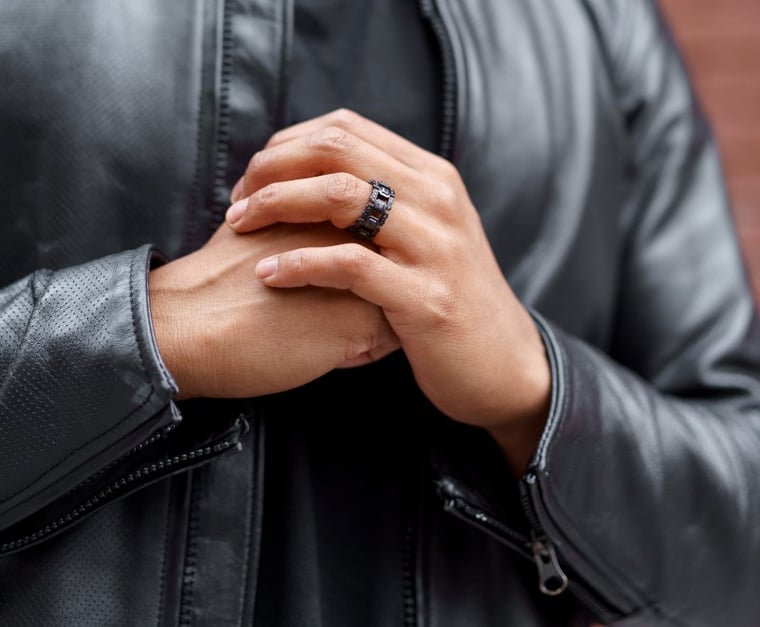 Rockford Collection's Everblak Gold is truly something special. It took us 1,095 days to develop our Everblak Gold collection. One Everblak Gold ring takes 730 hours to create.

It's created using one of the most complex finishing techniques we employ in our atelier, and it's worth it.

Simply put, this is the best black gold on the market. We made this for men who choose to make their own rules, and like you, we don't settle for second best.
What else should I look out for?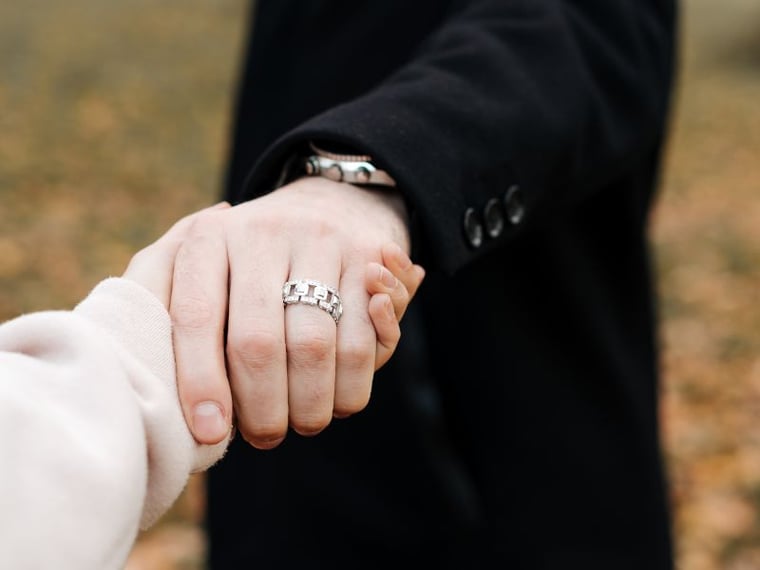 Allergies are something to keep in mind when choosing your wedding band. The higher the purity level or karat, the less likely your ring is to trigger skin allergies. Same goes for platinum. Higher purity = less chance of allergies.

Taking care of the standard 18K gold is really, really easy and can be done right at home if you're not into outsourcing. Just let it soak in a mix of two-parts water, one-part dish soap for a few hours, then give it a gentle scrub with a toothbrush or jewellery cleaning brush to revive its gleam.

When the time is right, you can have your ring 'dipped', which in jeweler-speak means resurfaced with rhodium for that extra glossy like-new shine.
And that's a wrap.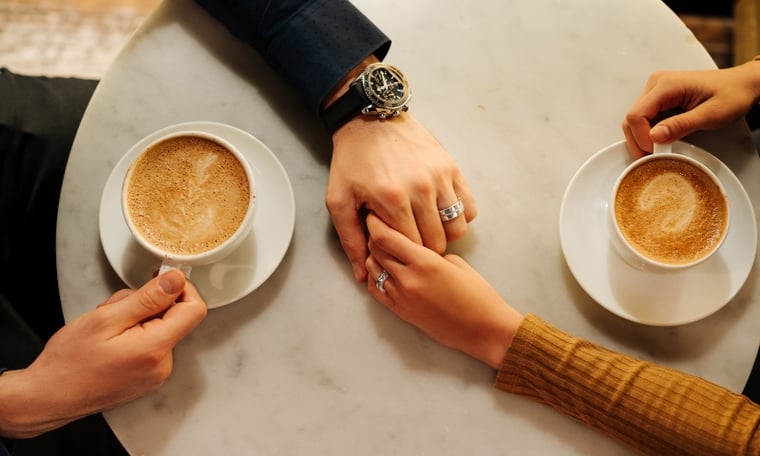 In a nutshell, make your choice based on how you live your life. Choose a ring that's going to last a lifetime, and survive your lifestyle.

To order a free sample or find out more about Rockford Collection rings, hit us up via live chat, phone or email, or book a virtual appointment.