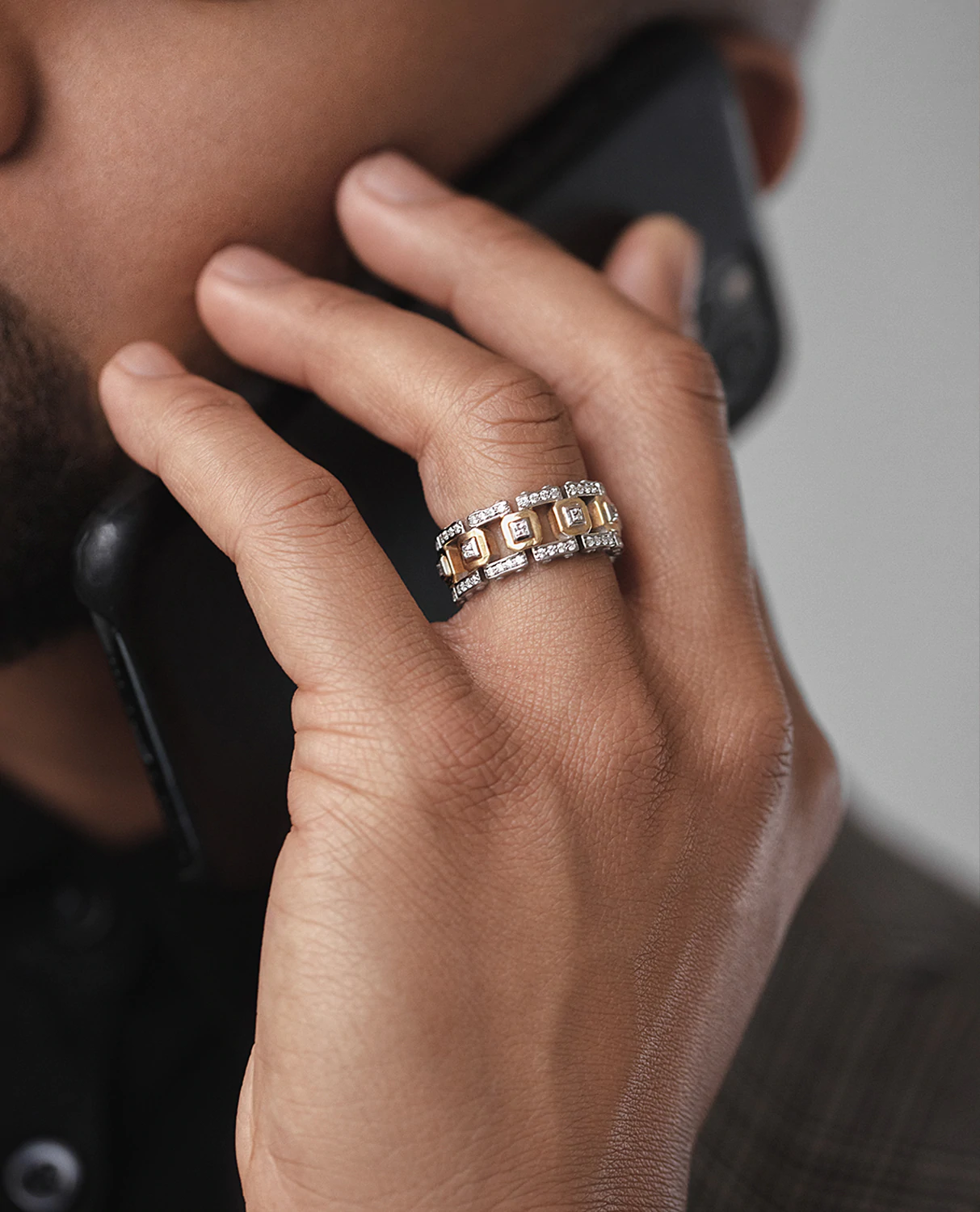 When faced with the mind-boggling challenge of choosing a wedding band from the unbelievably boring array of men's wedding bands out there, the proposal itself seems like a blip on the radar.

Agonize no more. We've hit the cobblestones of Paris, the pavements of New York and everywhere in between to bring you a selection of wedding rings that balance quality and style, with a price tag you can stomach.

We've put the filters in place so you'll find 14kt and 18kt gold options that will withstand everyday wear, and only jewelers who know their stuff when it comes to diamonds made it onto this list.

Read on to discover 18 of the best wedding bands for men.
The Roosevelt
by Benchmark Rings

$4,300
The very name of this ring inspires confidence. Designed with the debonair gentleman in mind, the glossy band delivers high-end sparkle to tailored edits.
Cast from 14kt yellow gold, the design is channel set with a dozen diamonds between grooved edges polished to a high shine. The interior is satin-smooth, creating a canvas for a meaningful inscription. Benchmark Rings supports local business through its Support Local Roots program, so when you place an order online a significant percentage of the purchase price will go to your selected retail outlet.
BRIGGS
Rockford Collection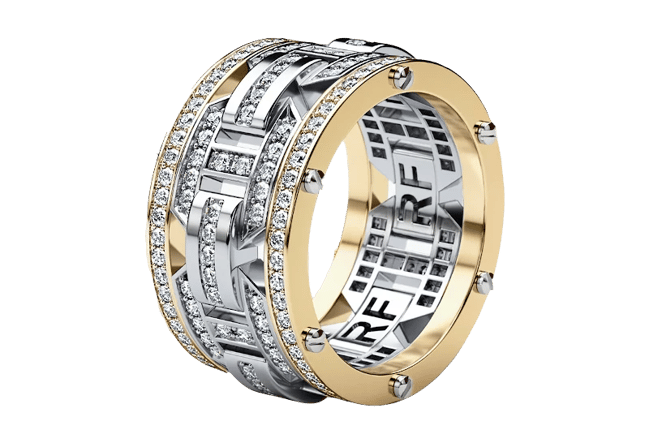 $6,380
The Briggs wedding band from NYC-based hustlers, Rockford Collection, is decadent and surprisingly practical at the same time. Named after a mine discovered by pioneers of the U.S. Gold Rush, the ring is a symbol of determination and tenacity, made for the man who keeps going, no matter what. Crafted from 18kt gold and packed with 2.10ct diamonds, the two-tone design was tested for comfort and wearability before going into production, and is easily mixed and matched with other pieces in your jewelry artillery. This one's got our vote for the long haul.
B.ZERO1 Ring
by Bulgari

$1,680
Bulgari's B.ZERO1 collection launched in 1999, and maintains a dazzling relevance to this day. An homage to Rome, the eternal city, and the most renowned amphitheater of the world, the Colosseum, the ring's design centres around a distinctive spiral: a metaphor for the past, present and future. This iteration is cast in glossy 18kt rose gold, and inscribed with the name that has been synonymous with luxury since 1884: Bulgari.
Ring in Yellow Gold with Diamonds, Narrow
by Tiffany & Co.

$1,950
Tiffany & Co needs no introduction: the little blue box alone is synonymous with sophisticated style. This timeless ring is a key piece in the Tiffany 1837™ collection, defined by sleek curves and contours. Expertly made from 18kt yellow gold, the band is proudly stamped with the year Tiffany was founded, and 750 to denote the purity of the gold. Brilliant-cut diamonds embedded in the design deliver a subtle sparkle to the hand, and the narrow design allows it to be comfortably worn with similar toned pieces if stacking is your thing.
LOVE Wedding Band
by Cartier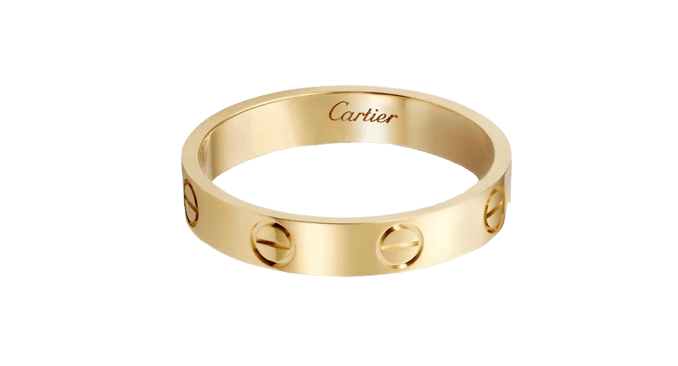 $1,170
When it comes to selecting a wedding band, Cartier's LOVE collection just makes sense. The collection itself has been around since 1969, and has become part of the zeitgeist in recent times with Hollywood's finest loading their fingers and wrists with the instantly recognisable jewelry. This particular band has been fashioned from lustrous 18kt rose gold, and is engraved with the iconic screw details that deliver an air of refined masculinity. A single diamond of exceptional quality sparkles out from the design in tribute to the object of the wearer's affection.
Classic Men's Wedding Band
by Tacori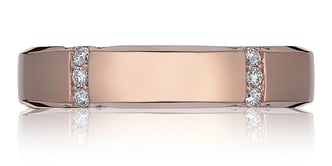 $3,490
The Tacori family has been creating meaningful jewelry for generations, from humble beginnings in Romania to opening their first store in downtown Los Angeles in 1979. With a specialization in wedding jewelry, the Tacori family has marked milestones for many. The classic men's band is handcrafted in California, and a testament to the brand's meticulous craftsmanship. Cast in 18kt rose gold, precision and symmetry is displayed in neat lines of brilliant diamonds, and intricate beading at the edges.
David Yurman
Beveled band in 18kt gold with pave diamonds

$4,600
The sleek angles and symmetry of David Yurman's Beveled Band are emphasised with rows of glittering diamonds totalling .76 carats. The 18kt gold ring is a deserved indulgence, polished to a high shine and set with a geometric pattern on the interior. The slanted edges make for a more comfortable wearing experience, and add a refined touch to tailored and evening ensembles. The Yurman family has a strong charitable presence through its eponymous foundation, so this is a choice that will have you looking and feeling good.
Possession Wedding Ring
Piaget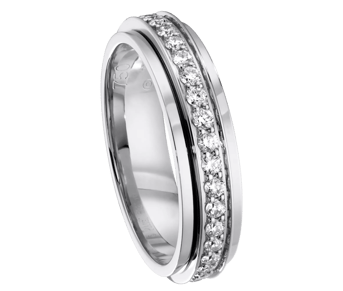 $6,098
Piaget's Possession collection has been dazzling beholders since the end of the 20th century. This ring has been selected from the collection for its ability to stand out in a crowd, without compromising the elegant image the Swiss jeweler has curated. Set with 37 brilliant-cut diamonds totaling a weight of .56 carats, the grooved white gold band is a sparkling symbol of eternity. It brings a touch of glitter to the everyday, and a heart-warming reminder that you love and are loved.
La Paz Two-Tone Gold Wedding Band with 1.20ct Diamonds
Rockford Collection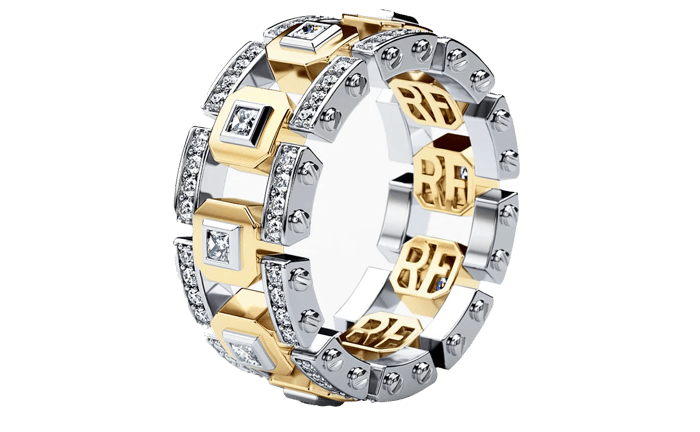 $4,435
The La Paz ring from the NYC-based disruptors at Rockford Collection was inspired by the daring and open-hearted explorers who discovered the La Paz gold mine in Arizona. 'Paz' translates from Spanish to 'peace', so the design doubles down on meaning, bringing a calmness to the big day and beyond. Expertly crafted from white and yellow 18kt gold, the decadent design is soldered in place with the designer's signature screw details and set with 1.2ct diamonds. The two-tone design takes the effort out of mixing and matching with other pieces too.