Uncover the workshop secrets of NYC's best men's jewellers

Aleksander Chuly
Apr 07
5 min read
How are we sure we're the best of the best? We don't compromise. Ever.
The evolution of a Rockford ring centers around quality, craftsmanship and a production process that deserves a red carpet roll out. We hand-pick the precious stones we use, and opt for only the finest metals.
Each ring is engineered to perfection right here in New York City by professionals at the top of their game: artisans, jewellers, designers, diamond setters and polishers.
On average, it takes around 26 hours to complete a Rockford ring due to the complexity of our designs. Our Ropes Ring takes more than 26 hours of workmanship to assemble the 28 parts and 106 hand-selected diamonds, and it's worth every second.
The cherry on the sundae: every ring from Rockford comes with a warranty that lasts a lifetime. We're that sure.
It starts with a sketch…
The grit and dazzle of gold rushes in the United States provides inspiration for much of our collection. In a nod to this bright period in our history, American gold is the foundation of every Rockford ring.
We find ideas in our everday surroundings too. New York's streets are a fusion of hustle and high-end, and design inspiration is everywhere: interlocking subway tracks, dazzling reflections on high-rise windows, symmetrical scaffolding, the swirl of style on the sidewalks.
Taking these ideas, capturing them in the design of a ring and putting that on paper is the first step.
Let's get technical…
Once the first sketch of the ring is complete, the process becomes a little more complex.
Technical drawings map out the mechanics, including how the ring will be put together, the height, width, gauge, setting sizes and more. Using various technical software programmes and techniques, a 3D designer enables visualization of the design. We check over the physical feasibility and can estimate the number of hours it will take our craftsmen to create each piece.
Into another dimension…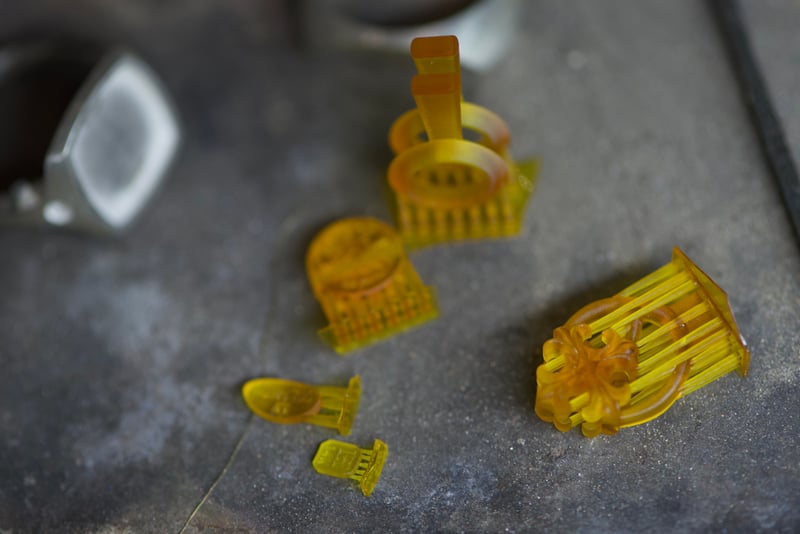 The next stage of the production process is creating a wax model of the ring.
Each separate component of the ring is created to check the size and detailing is correct, and that each of the pieces fit together.
Once that's checked off, production starts for casting a prototype.
Time for casting…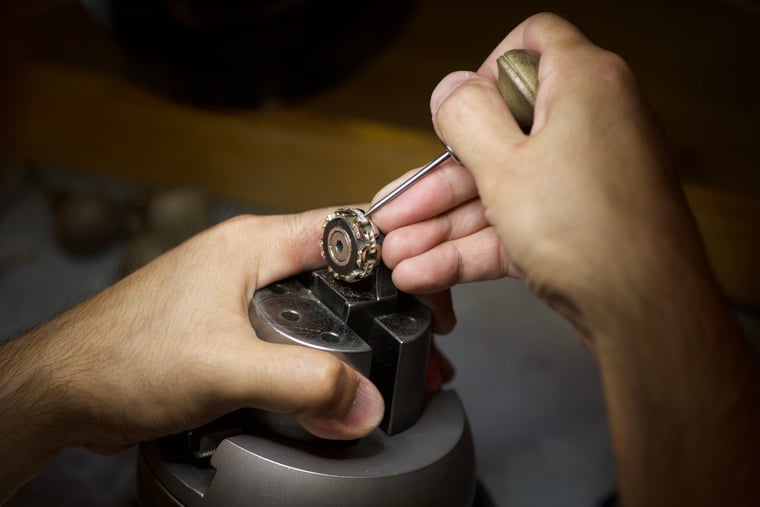 Depending on the design of the ring, each piece of the prototype will be cast in gold or platinum. The pieces then go to the jeweller who will clean and pre-polish each part to prepare it for assembly. Once that's complete, the working design is assembled.
The road test…
Once the working design has been put together it's time for the ultimate road-test.
A member of our team will wear the working design for a few days to make sure it feels as good as it looks. They'll take notes on any suggested changes and make sure this bling blends into everyday life as much as it stands out from the crowd.
Keep in mind this is only for new designs we are planning on launching. Your ring will only ever be worn by you.
Once everything checks out, and any changes are incorporated into the design, we start production of the shiny new rings that will join our Rockford offering.
Not all stones are created equal…
When we're making rings that will go to market, the process is similar to making a prototype, but this time it's made to order.
Your ring is made for you, and for you only, cast in your chosen precious metal. Once that's done, it's time to put on the frosting.
Rockford Collection only works with precious stones. By that, we mean all the usual suspects: diamonds, rubies, emeralds and sapphires. Each one is hand-picked based on its cut, colour and clarity, then a professional diamond-setter goes to work to complete the ring.
The finishing touches…
Every Rockford ring goes through a rigorous cleaning and polishing process before it ever leaves our workshops. Whether as a new design or after its yearly inspection.
Once cast, assembled and set, your ring is professionally polished and then undergoes ultrasonic cleaning, a high-tech method of removing particles via soundwaves and specialist cleaning solutions.
If the ring is white gold, we'll plate it with rhodium, one of the world's most rare and expensive metals, for that extra glossy shine.
A final cleaning and steaming, and your ring is nestled in our sleek packaging along with a Certificate of Authenticity and our lifetime warranty. We'll include a cleaning cloth and leather pouch too, so you can keep your Rockford ring safe and sparkling.
To order a free ring sizer or find out more about Rockford rings, hit us up via live chat, phone or email, or book a virtual appointment.